Supervised by Becky Davenport, Ph.D., LMFT-S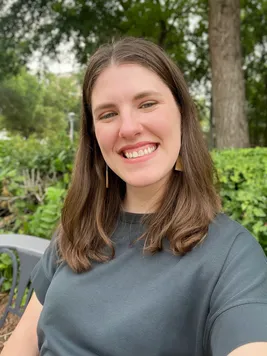 As a Clinical Mental Health Counseling graduate student at St. Mary's University, I'm thrilled to be interning with the Institute for Couple and Family Enhancement. I embarked on this career path in 2020 after a decade in marketing and communications, because I'm convinced that counseling is one of the most powerful ways to make a difference in my community.
I could be the right counselor for you if you're looking for creative solutions to your emotional challenges. I primarily use a method called narrative therapy, which believes that we can rewrite the stories we've told ourselves to more accurately represent who we are at our core, separate from our problems. We will work together to identify your concerns, externalize them, and investigate the narratives that are fueling them. If you're open to it, we'll even incorporate things like art, journaling, and meditation to relax and open up the mind.
When working with couples, I'll help you and your partner manage conflict and enhance your friendship using the Gottman Method, which is rooted in decades of research on successful relationships. We'll identify and eliminate unhealthy patterns in your relationship and replace them with rituals that foster respect and empathy.
Outside of the counseling room, I spend most of my time with my husband and our cats. When not at home catching up on the latest TV shows, we're out making memories with our family and friends, exploring our city, or traveling. My personal hobbies include reading, sewing, cooking, and trying new restaurants with friends.
It would be my honor to join you on your journey in creating the life you want to live.
"Mental health problems do not define who you are. They are something you experience. You walk in the rain and you feel the rain, but, importantly, you are not the rain."
― Matt Haig
Brooke Leith, ICFE Graduate Intern, Supervised by Becky Davenport, Ph.D., LMFT-S, [email protected]