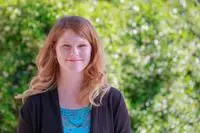 I am a Licensed Marriage and Family Therapist (LMFT) and a Registered Play Therapist. I received my BA in Psychology from the University of the Incarnate Word in 2008 and completed my MA in Marriage and Family Therapy at St. Mary's University in 2010. I am proud to say that I have been with the ICFE since 2011 and hold the honor of being the first intern many moons ago.
My therapeutic mission is to create a safe and unconditionally accepting environment for all who walk through my door. There is no better feeling than to feel truly heard and seen; I hope all of my clients feel confident showing up as their most authentic selves. My main areas of focus are Child and Family Therapy and Individual Adult Therapy. I enjoy working with children and families on issues including (but not limited to): Enhancing Parent-Child Relationships; Divorce Adjustment; Coping with Life Changes; Anxiety; Depression; Behavioral Difficulties; Death/Loss, Trauma, Reactive Attachment Disorder, and Helping Your Child and Family Cope with the Challenges of and see the Beauty of Neurodivergence. My work with individual adults focuses on Managing Life Changes; Increasing Self-Confidence; Learning How to Set Healthy Boundaries in Your Life; Managing Depression; Managing Anxiety; Divorce Recovery; Trauma Recovery; and Working Towards Improving Important Relationships in their Lives. I also enjoy working with adults diagnosed with Autism, Down Syndrome, and other similar needs to focus on Life Skills, Social Skills, or Coping with any of the above-listed concerns. You can learn more about me and the services I provide by visiting my professional website acollinsfamilytherapy.squarespace.com.
On a personal note, I have been with my husband Alex since 2006, and we are proud parents to two beautiful children. Also in our family are two wild, but cute, twin Maltese poodles which means our house is never boring! I have an unhealthy obsession with fried pickles and coffee (not at the same time) and I am not allowed to buy more books until I finish the 500 that I have already bought and haven't started!
Amanda Collins, MA, LMFT - (210) 461-2214, [email protected]