Supervised by Becky Davenport, Ph.D., LMFT-S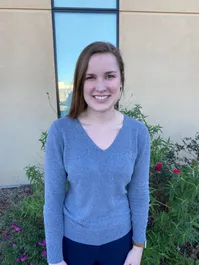 I am a licensed marriage and family therapist associate in the San Antonio metro area. I received my Bachelors from Florida State University, double majoring in Family & Child Sciences and Religion. I received my Masters in Marriage and Family Therapy from Pfeiffer University in North Carolina. Previously, I have worked as a preschool teacher as well as a children's mental health case manager.
In addition to seeing clients at ICFE, I also work as a case manager at a residential treatment center for teenage girls. I have experience working with individuals, children, teenagers, couples, and families. My past clients have presented with concerns including, but not limited to: anxiety, depression, trauma, work/life stress, LGBT concerns, sex/intimacy concerns, parenting, and conflict resolution. I have a personal understanding of what it is like to have a military & law enforcement spouse. My passion is strengthening families through my work with both children and adults, increasing connection and resiliency.
In my personal time I enjoy spending time with my husband and our dog, exploring the outdoors of the Hill Country, gardening, and cooking.
Lindsey Davis, M.A., LMFT-Associate, Supervised by Becky Davenport, Ph.D., LMFT-S, 210-660-8633, [email protected]