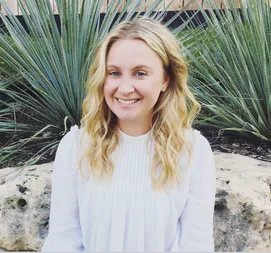 I am a Licensed Marriage and Family Therapist. I graduated with Honors with a Bachelor of Arts degree in Psychology and Spanish from Texas Tech University in 2014. In 2016, I attended St. Mary's University where I earned a Master of Arts degree in Marriage and Family Therapy. I have been in practice since 2016. I am also a New Professional member of the Texas Association for Marriage and Family Therapy. My experience includes working with individuals and couples as a therapist with Chrysalis Ministries, and I was also privileged to serve in the role of a psycho-educational instructor with Chrysalis Ministries.

I discovered my passion for working with children while completing an internship at an elementary and middle school in Seville, Spain. I continued to foster this passion and was able to transform it into serving in a therapeutic role by working as a counselor in private Archdiocesan elementary and middle schools. I continue to love working with children and their families. I see our work together as an opportunity to enhance and strengthen family relationships through engagement and connection.
I spend my free time enjoying time with my family, running, reading any book I can get my hands on, and I like to throw a healthy dose of reality tv in there to balance everything out.
Katie Keith, MA, LMFT - (210) 570-7299, [email protected]